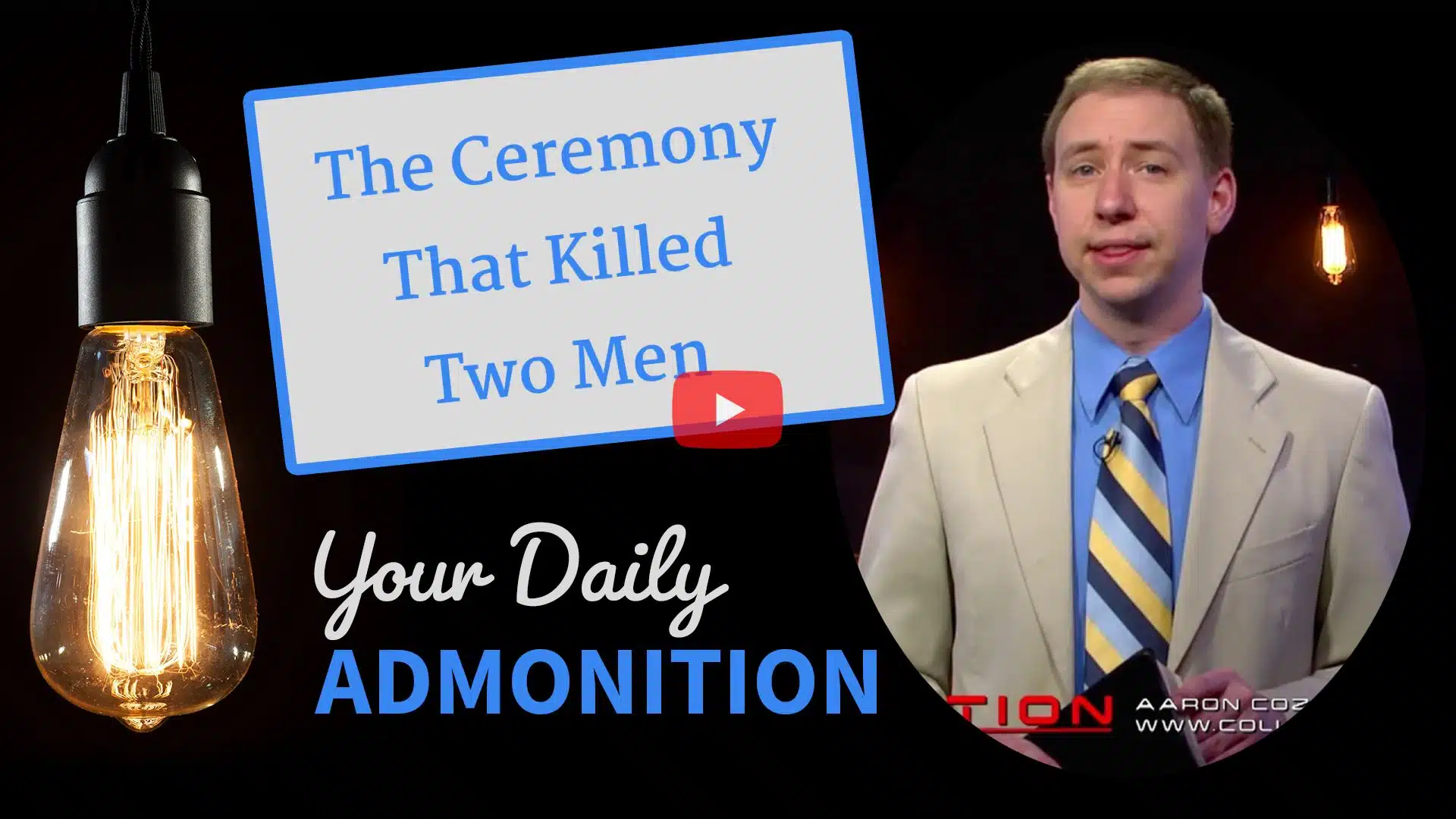 Scripture:
Leviticus 10:1-10
Description:
Summary:
The sons of Aaron made a sinful choice because of a bad influence. Remove this bad influence from your life.
Scripture:
Leviticus 10:1-2, 9-10 Then Nadab and Abihu, the sons of Aaron, each took his censer and put fire in it, put incense on it, and offered profane fire before the LORD, which He had not commanded them. So fire went out from the LORD and devoured them, and they died before the LORD…. 9 "Do not drink wine or intoxicating drink, you, nor your sons with you, when you go into the tabernacle of meeting, lest you die. It shall be a statute forever throughout your generations, 10 "that you may distinguish between holy and unholy, and between unclean and clean,
Transcript:
And now Admonition…
Two men were invited to take part in the ceremony. They were invited to take part in the beginning of a ceremony that that would set and alter the course of an entire nation. And they didn't live through the experience. Aaron had two sons names Nadab, and Abihu. He had four… those two we're talking about, Nadab and Abihu were priests of God. They were supposed to offer fire and incense upon the altar and they didn't do it properly. And do you know why? If you read Leviticus chapter 10 very carefully, you'll find out why… they were drunk. They didn't know the difference between one fire and another, and they put the wrong fire on the altar and God took their lives. Don't drink.
---
This video is part of the daily video devotional: Admonition
Visit the Admonition Channel on YouTube
Details About Admonition
Subscribe to Admonition on Youtube:
Subscribe on YouTube – https://www.youtube.com/channel/UC3syE1ogS5LPeEsnAfgnYrg?sub_confirmation=1
Sign up for a daily devotional by Email: https://cozort.org/free
Leave a comment for the host of Admonition: https://cozort.org/contact
Watch more of Aaron's videos about Salvation, the Gospel, the good news, the gospel message salvation, and in-depth studies of the books of the Bible by visiting https://cozort.org, and Collierville church of Christ.
This video is a production of Collierville Christian Radio, the Collierville church of Christ, and the Gospel Broadcasting Network.
Aaron Cozort is the preacher for the Collierville church of Christ.
The Collierville church of Christ meets on Sundays morning and afternoon at 575 Shelton Road, Collierville, TN 38017.
To learn more about the Collierville church of Christ, visit colliervillecoc.org
Not currently a subscriber to Admonition? Sign up for this daily video devotional by Email: www.colliervillecoc.org/daily or www.cozort.org/free.
Transcript: